Check out our trail team members on our Instagram profile and podcast – and click the links in each hiker's profile to follow along via their personal channels!
ELLEN DELONG
"WAYFINDER"
PACIFIC CREST TRAIL
Wayfinder is originally from Iowa and is now a travel labor/delivery nurse working out of the PNW. This year, she is hiking the PCT while also raising awareness around pregnancy and infant loss – by raising money for Cuddle Cots and bereavement education for nurses to improve patient care. You can donate to her GoFundMe cause here.
She will also be keeping a Blog on her website as she hikes, so follow along!
IAN HAYANO
PACIFIC CREST TRAIL
Ian is from Illinois and is taking on the PCT this year. He enjoys running, paddling, hiking with his daughter, and food! Expect some great food photos and town food reviews as he hikes north. He describes his upcoming PCT journey as "the manifestation of a dream, and a journey of healing." We are certainly excited to follow along on his amazing adventure as he hikes on.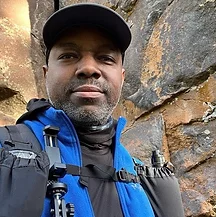 DONAHUE HOLLAND "DEF POS"
PACIFIC CREST TRAIL
Def Pos (short for Definition Positive) is a DJ from Southern California and most recently, Oregon. When he's not working on house projects and landscaping, he enjoys running, disc golf and tennis. Def Pos is hiking a 500 mile section of the PCT from Campo this year – and has hiked the Timberline Trail in the past, and recently summited South Sister in Oregon! 
MIKE ASPIRAS "NOMEN"
TAHOE RIM TRAIL
"Nomen" (short for "Nomenclature") is taking on the TRT in 2022! He's also hiking the Trans Catalina Trail to prepare for his longer trek. Based out of the California Bay Area, Nomen is an active service member with the US Coast Guard. He attempted the TRT in 2021, but unfortunately got off trail due to the wildfires in the area. 2022 may be the year for redemption!
CAROL COYNE "CHEER"
CONTINENTAL DIVIDE TRAIL
Cheer is from Southern California and is the founder of THRU-r, as well as the artist behind  Dirtbag Ceramics. She is going for her Triple Crown and is halfway there, with the entire PCT completed as well as half of the CDT. This year, she plans to complete the CDT and will also be planning a full thru-hike of the AT in 2023 to finish her triple on Mt. Katahdin.
J.C. VAN ETTEN "CATMANDO"
PACIFIC CREST TRAIL
J.C. Van Etten or "Catmando" is from Florida and has hiked the Appalachian Trail as well as many miles on the Pacific Crest Trail. Last year he hiked SOBO on the PCT but was unfortunately forced off trail due to wildfire closures on much of the trail. This year, he will be hiking NOBO from Campo! He's dreaming about the Triple Crown and is well on his way. During his hike, he is raising awareness for the Cystic Fibrosis Foundation in support of some of our own in the long distance hiking community. To donate, you can check out his fundraising page here.
MATT BOOTHBY "NO BREAKS"
PACIFIC CREST TRAIL
Matt is a UL backpacker taking his first steps toward the Triple Crown – by starting with a northbound trek along the PCT! He is from Maine and enjoys peakbagging, trail running, and photographing in the White Mountain National Forest. As he turns the page onto this new chapter of his life, he will be honoring the sacred lands we all walk upon as he hikes north.
LIES DIEBEN "NUTCRACKER"
PACIFIC CREST TRAIL
Lies (pronounced "Lease" for the English speakers out there) is Dutch and is making the trip to take on the PCT. The terrain is pretty flat in The Netherlands but she is trying to train as much as possible when she's not working for sustainable companies and teaching self-defense classes! As she hikes, Lies is raising funds and awareness for a scientific study addressing the benefits of cannabis oil for cancer patients (via her endeavor: Six Million Steps). You can learn more and follow along with Lies on her website, and you can donate to Six Million Steps here.
VIVEK YADAV
JOHN MUIR TRAIL
Vivek is originally from India and is now based out of New York, where he was awarded his Masters Degree and is now working in medical research. This year, he is hiking the JMT and also scored a permit to hike Half Dome! As Vivek hikes, he is bringing awareness to mental health issues and is opening up the conversation by sharing his experiences from trail. We are so excited to follow along! 
TERESA & BRENT BAIN
PACIFIC CREST TRAIL
Brent and Teresa are from the West Coast and met while working in Yosemite Valley. They have traveled in their RV for the past three years while working/working remotely and now have their sights set on thru-hiking the PCT. They are no strangers to long distance hiking, and have hiked the JMT in the past – which is where their dream of hiking the PCT was born. Let's see what 2022 holds for them!
MIKE MCCLURE "JUST MIKE"
PACIFIC CREST TRAIL
Just Mike is starting out his Triple Crown dreams with a NOBO hike along the PCT. He is from Michigan and attempted a SOBO trek in 2021, which was ended by widespread fire closures in the area. He plans to update everyone on Instagram with lots of video clips as he hikes north this year!
CATHERINE TURGY "STITCH"
PACIFIC CREST TRAIL
Catherine is from Canada and will be hiking the PCT this year. She works in industrial design/ product development and loves to knit, crochet, do yoga, sketch tiny house plans, and do trail maintenance in her free time. She's hiked in many spots in her home country and is also the first person to complete a continuous hike on the Quebec National Trail at 1535km. That sounds like a worthy shake-down hike to us!
SHANNON QUADRES "HOT MESS"
COLORADO TRAIL
Shannon Quadres or "Hot Mess" is hiking the Colorado Trail in 2022, and is raising mental health awareness while doing so.
She is from Texas and (more specifically) is hiking in support of the HIKE For Mental Health organization. Hot Mess will be updating us via The THRU-r Podcast as well as on her Instagram and YouTube channel as she hikes on.
LIZ LIVERMONT "FLAMINGO"
PACIFIC CREST TRAIL
Flamingo is from Independence near the Sierra Nevada in California, and will be hiking the PCT this year. She's big on photography and will be the one on trail with a ton of camera equipment! We can be sure to see some amazing photos from her experiences in the wild. Flamingo has hiked many trails with her mother, and is planning to walk the Camino Frances with her this fall! She's giving us a lot of ways to follow along with her adventures, and you can learn more by visiting her website here!
THE BENNETT FAMILY "KIDS OUT WILD"
APPALACHIAN TRAIL
The Bennett Family – known as "Kids Out Wild" – are going for their last Triple Crown trail this year: The AT. This amazing family takes their dog, Muir, along for the adventures too, and it's so cute to see! Kids Out Wild are hiking for a great cause – Lifting Hands International which offers humanitarian efforts to refugee families in need. As they hike north, they will be giving us updates on Instagram and YouTube
JOHANNES HOLZMAIR "SWEETHEART"
PACIFIC CREST TRAIL
Sweetheart is from Germany and is taking on the PCT this year! He hiked the AT in 2017 and is going for his Triple Crown, so the PCT will be #2! He was inspired to hike in the U.S. after reading Bill Bryson's book when he was a teenager. Now he is realizing that dream! Sweetheart is training in Germany and will be starting his NOBO trek in early March.
EMILY HAYES "DIM SUM"
PACIFIC CREST TRAIL
Emily is a Technical Manager from England and, when she's not thinking about hiking, she's thinking about Dim Sum. Emily is already thinking like a thru-hiker! After nine years of dreaming about the PCT, she's going for it. As Emily hikes, she is raising funds for KOTO – a foundation which gives disadvantaged youth in Vietnam the opportunity to develop a career in food and hospitality. If you'd like to support this wonderful cause, you can donate here! Emily will be updating everyone via Instagram, The THRU-r Podcast, and is also blogging for The Trek. We are so excited to follow along as her dreams become a reality!
JACKIE NICOLE
PACIFIC CREST TRAIL
Jackie is an actor, singer, and teacher from the Los Angeles area. She has so many interests including surfing, beekeeping, and playing the piano. Jackie has hiked the JMT and is also an ultra-marathoner! She will be updating us on Instagram, The THRU-r Podcast, and is also updating for The Trek. She is looking to challenge her body on her hike, and has been training by trail running and hiking with her pack. We're sure she's going to crush it out there!
TONY & ANNA ANGOTTI
PACIFIC CREST TRAIL
Tony and Anna are hiking the PCT in 2022 and this is their first long distance trek! They are from Pittsburgh and are excited to get back to basics on trail. Tony is a self described documenter, so we are looking forward to some great documentation while he is on trail and in town. They will be taking photos of their gear all along the way so we can see how things look as they hike north.   
MICHAEL HESS "DOUBLE STACK"
PACIFIC CREST TRAIL
Double Stack is from New Jersey and has hiked the AT, LT, and CT. He's now setting his sights on a PCT thru-hike in 2022! After having to cancel his plans due to the pandemic in 2020, he is ready to set foot on trail again. Double Stack hopes to focus on this adventure and, at the same time, gain clarity on the future he wants after trail.
JULIE GORDON "GAIA"
PACIFIC CREST TRAIL
Julie is a Speech Pathologist from San Diego, California – which is not far from Campo where the southern terminus of the PCT is located! In her free time, she sews, makes nature quilts, and loves to read, cook, and play board/card games. Julie will be answering the call to hike the PCT this year and will be updating on Instagram and YouTube!!
NIKKI HUGHES "LITE BRITE"
PACIFIC CREST TRAIL
Lite Brite is from Upstate New York and hiked most of the PCT in 2021. Due to fire closures, she wasn't able to reach the Northern Terminus – but is returning this summer to finish the last 200 miles to complete her trek! She is a yoga instructor and personal trainer – which has served her well this far (gotta meditate sometimes on the trail, right?). We are so excited to follow along to her finish on the PCT!
LISA MERCIER
PACIFIC CREST TRAIL
Lisa is from Canada and is hiking the PCT this year. She is Québécois and comes from a long lineage of French-Canadian peoples. She loves to knit, read, and write in her free time and is excited to start her first long distance hike. Lisa is a minimalist and is excited to use her tiny toothbrush on trail!
BRADLEY BIGGS
PACIFIC CREST TRAIL
Bradley is from Canada and is set for a 2022 PCT thru-hike this year. He started the PCT in 2017 and had to get off trail due to personal reasons – but now he is back for redemption! He's completed an Ironman race in 2019 and has been training as much as he can in Canada to prepare for his long trek north.
NIK HIK
PACIFIC CREST TRAIL
Nik is from British Columbia and he will be hiking the PCT this year – which has been years in the making due to having to cancel his 2020 JMT hike because of the pandemic. An arborist by trade, Nik has spent years climbing trees and gaining a unique perspective on nature. We are so excited to follow along and hear about this perspective as he treks north!